Alden Grapes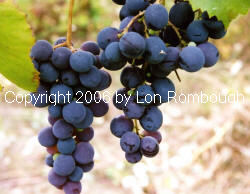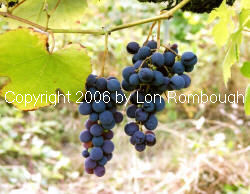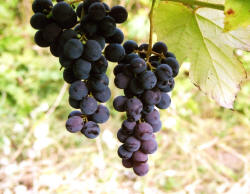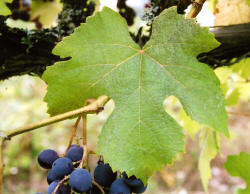 Alden (Ontario x Grosse Guillaume). From Cornell University's Geneva, New York experiment station.
One of the largest berried American hybrid grapes,the size of the oval, bluish red berries is striking. Not only are they large, they are firm and meaty with a slight muscat flavor. The fruit quality is pure vinifera with no foxy flavor. The berry skin is tender and prone to cracking, but the vines are so productive (50 pounds isn't uncommon) that there is still a lot of fruit left after any damage is removed. Alden has rather low acid, allowing it to taste sweet at lower sugar. In fact, 16oBrix is about as high as the sugar goes most years. In spite of the low sugar, several people have reported being able to make a white muscat wine with Alden.
Alden needs good soil fertility for best growth and production. Disease resistance is about average for this kind of hybrid, which means it needs a regular control program in the east. Hardy to about -10oF. The growth habit is upright, making it easy to manage. Train it to cordons and prune the spurs to no more than two buds to prevent overcropping. A R-RB T,W EM.